Partnership between Unicesumar and Universities in the U.S.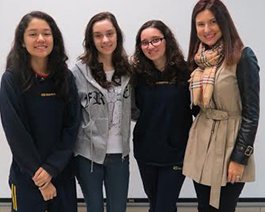 For the second year in a row, students from Colegio Objetivo, the high school which is owned by Unicesumer will participate in Elevate, a leadership and training program develo
pe
d to help potential young leaders. The program will take place in Boston between July 19th and 25th, and was orchestrated through a mutual partnership between Unicesumar and Universities in the U.S.
The students selected to participate in the program, Nathalia Winkler, Caroline Gaiesky and Amanda Otomura, are rising seniors, and participated in a brief meeting with Ludhiana Matos Silva, to talk about the last details of the upcoming trip, and Ludhiana will follow their activities, and said "this is a unique and relevant experience for the students.
The Elevate program has as one of its tenants a quote by John Calvin Miller, who said, " A leader know his way, goes his way, and shows the way.
Through activities like coaching, adventure learning, and speakers of international relevance the program helps young students think about the social problems that surround them, with the desire to find some practical answers and transform society for the common good.
The students will be together with other young students between the ages of 16 through 19 from all over the world. Beyond their leadership abilities "our students will have the opportunity to establish relationship with various cultures, better their vocabulary, and communication in the English Language" Mentioned Director of International Relations Naama Mendes Jr.